Wine Tastings Daily: 11.00 - 17.00
groups of max 4 persons at the time, No reservation required

Tasting fee $10.00 pp/ waved with wine purchase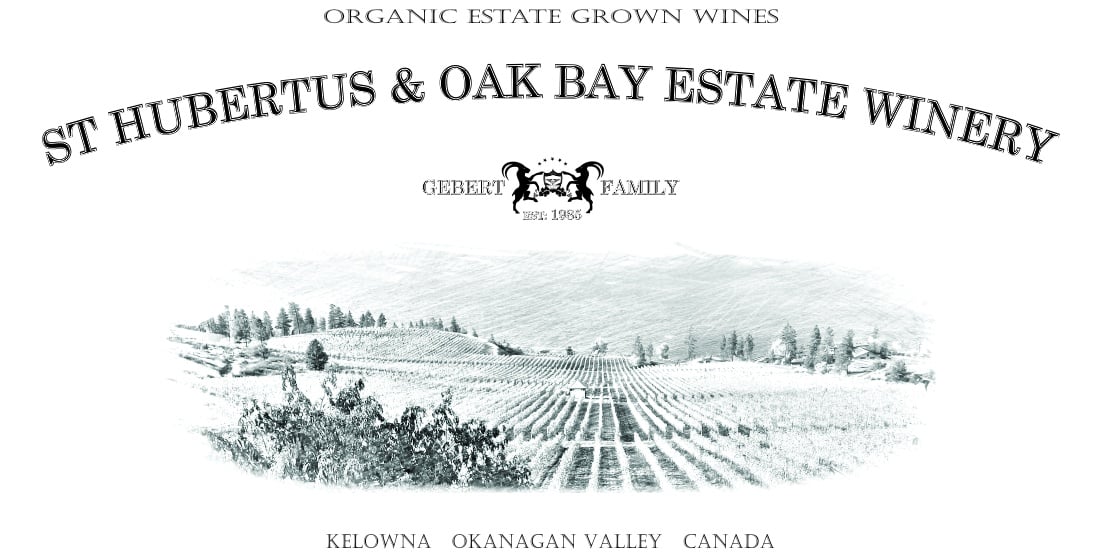 The St Hubertus & Oak Bay Vineyards were originally planted in 1928 By J.W. Hughes during a time when agricultural land was plentiful.
Since 1984 the Gebert Family's use sustainable & Organic*(transition since 2017) farming practices on their 80 acre vineyard to produce 100% Estate Grown wines that reflect the terroir of the "South Kelowna Slopes" located in the north Okanagan Valley under the St Hubertus & Oak Bay Label.
The familys believe in minimal intervention when creating there wines full of flavour and soft tannins to show off the complexity associated with the Old World, but with the

clean fresh fruit flavours of the New World.
You will love the wines we craft!
Cheers! The L & A Gebert
*PACS "Canadian Organic Standards" transitional status 2017
Les vignobles de St Hubertus et Oak Bay ont été plantés en 1928 par JW Hughes à une époque où les terres agricoles étaient abondantes.
Depuis 1984, la famille Gebert utilise des pratiques agricoles durables et biologiques * (transition depuis 2017) sur son vignoble de 80 acres pour produire 100% Estate Grown des vins reflétant le terroir des "South Kelowna Slopes" situés dans le nord de la vallée de l'Okanagan sous le label St Hubertus & Oak Bay. .
la famille croit en une intervention minimale lors de la création de vins pleins de saveur et de tanins souples pour montrer la complexité associée au Vieux Monde, mais avec le

arômes de fruits frais du Nouveau Monde.
Vous allez adorer les vins que nous élaborons!
À votre santé! Le L & A Gebert
* État transitoire 2017 du PACS "Standards biologiques canadiens"